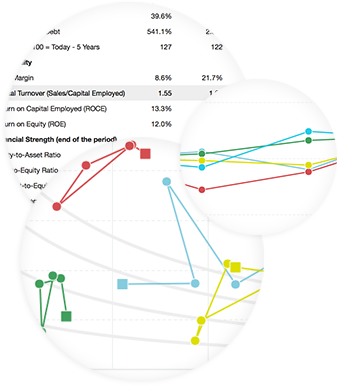 We believe it's crucial to know your competitors, suppliers and customers' financial performance to make strategic decisions. We know that knowing the links between strategy, financial consequences and value creation will help you.
Financial information in annual reports is hard to utilize, analyze and compare. To do it properly you need expert knowledge in company strategy, accounting and performance measurement.
We help you with these issues. Our world leading experts analyze annual reports and present the financial information you need to strengthen your decisions with real financial intelligence.
About us

Magnus Bild and Mikael Runsten both hold PhDs from Stockholm School of Economics (SSE) and are highly acclaimed financial experts. Over the last 25 years they have provided financial learning for an extensive list of global customers like AstraZeneca, Carlsberg, Handelsbanken, Hennes & Mauritz, Investor, Maersk, Skanska and Volvo.
Erik Alenius is a current PhD student at the SSE department of accounting and works closely with Magnus Bild and Mikael Runsten in different financial learning programs.
Contact
Bild & Runsten AB Skeppar Olofs Gränd 3 111 31 Stockholm